Acrylic solid surfaces are composed of a mixture of natural minerals, resins and pigments. This composition gives the surface a range of properties that make it one of the most versatile materials for interior design. It is produced with state-of-the-art technology, which ensures homogeneity throughout the thickness of the material, as well as almost perfect size calibration. Discover in this article what the properties of this material are, its uses and the equipment needed for processing.
Acrylic composite meets the highest standards of quality, aesthetics, manufacturing, functionality and hygiene offering numerous advantages over conventional materials:
Three-dimensional thermoformability - under controlled heat becomes malleable and can be shaped into any form, including 3D.
Translucency allows light to pass through the material and disperses it at the same time, so fabulous LED lighting effects can be achieved.
Invisible joints - the joints are smooth and watertight, not visible (also thanks to the adhesives available in the colour of the tile) and do not allow dirt to penetrate, maintaining a high level of hygiene. At the same time, discrete joints make complex shapes look like a whole, even when inserts of different colours are made.
Flexibility - The limitless design possibilities of acrylic composite make it suitable for a multitude of interior and even exterior applications, making it the material of choice for many architects and designers around the world.
It is easy to process and installwith ordinary woodworking tools, unlike other materials (marble, granite, etc.) for which processing and assembly is done by specialised companies.
It is available in a wide range of colours and textures.
Easy to maintain - the non-porous, homogeneous surface does not allow moisture to infiltrate into the lower layers of the material. Acrylic composite has high resistance to chemical, mechanical and thermal action. It is resistant to UV radiation and has high colour durability. Damage and cracks can be repaired in most cases, and deteriorated sections can be replaced without being noticeable.
There are different possibilities of engraving depending on the chosen decor. For lighting effects, the material is engraved on the inside and illuminated from behind with LEDs, while engraving the surface on the outside allows inserts of different colours.
Sterile surfaces can be created because the non-porous surface does not allow the infiltration of liquids and the growth of bacteria and mould, making it ideal for use in doctor's cabinets or as bathroom and kitchen countertops.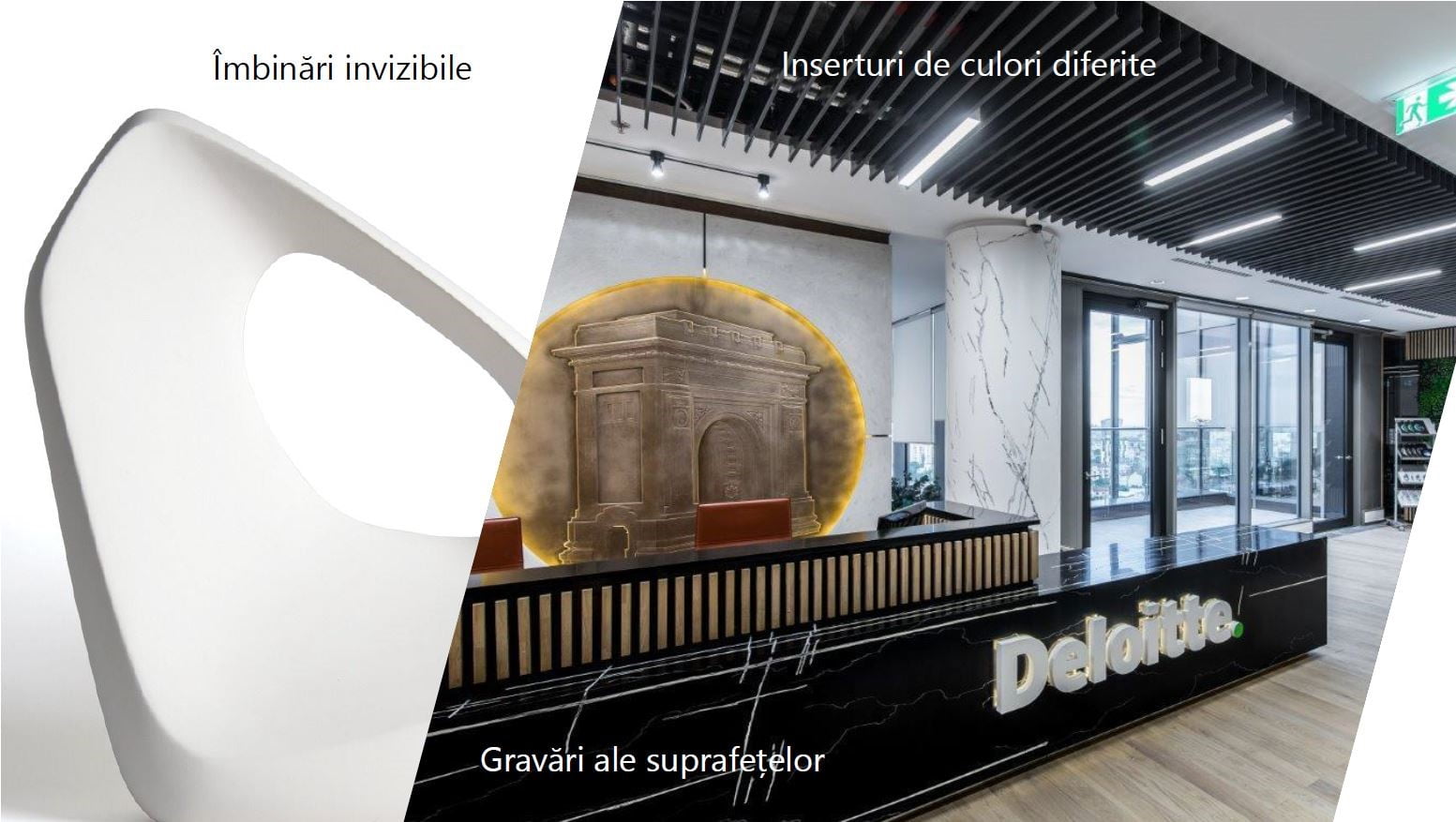 Uses of acrylic solid surfaces
Acrylic composite can be used for facades, and there are certified shades for outdoor use, weatherproof and UV resistant.
As a non-porous material with certified hygienic properties, it is the ideal choice for public and commercial premises, both in the reception area and in the bathroom or food preparation areas. The possibility of engraving the material, different colour inserts, three-dimensional thermoformability are just some of the ways in which acrylic composite can enhance a brand in a shop, showroom, hotel, restaurant, etc.
The intertwining of hygienic and design properties makes acrylic composite one of the best options for residential premises: bathroom and kitchen worktops, sinks, washbasins, wall coverings, decorative elements, etc., thanks to the extraordinary ease of cleaning and maintenance.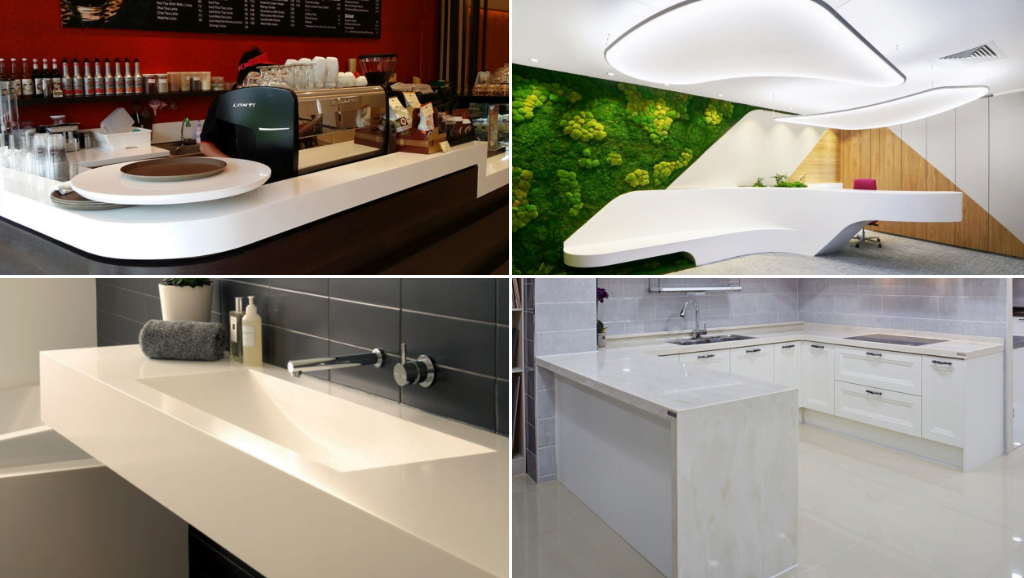 Acrylic solid surfaces manufacturers
The first brand that comes to mind when furniture manufacturers talk about acrylic composite is Corian, certainly because it is the oldest on the market. It was invented and patented by DuPont, and is produced in its factories in the US, Turkey, South Korea and China. Corian is made from a blend of 30% acrylic polymer and 70% natural minerals, using alumina trihydrate as the main ingredient. Over 90 colours are available, from solid whites to stone effects.
Since DuPont's patent expired, other brands have brought their own versions of this material to market. These other versions include Staron, Hanex, Kerrock, HI-MACS, Avonite, etc. There are differences between manufacturers in the 'recipe' used to produce acrylic composite, but the end result is essentially the same type of material.
Staron is produced by Lotte Advanced Materials (Samsung Interior) in Korea. These 100% acrylic surfaces are ideal for countertops, sinks, backsplashes, drain tiles and more. Staron is available in over 70 colours and patterns to meet the requirements of any decorating scheme. New from Samsung Staron is the Tempest line of semi-translucent solid surfaces with metallic particles that bring depth and elegance to countertops. Samsung Staron Recycled Content series uses a significant amount of recycled materials to create a variety of attractive shades and colours.
Hanex is a premium acrylic composite material that highlights the perfect balance of function and form. It is made of methyl methacrylate (MMA), polymethyl methacrylate (PMMA), alumina trihydrate and other special substances that give it timeless quality and beauty. It is produced in Korea by the solid surface division of Hyundai. The exclusive manufacturing process uses high-tech equipment and materials, so Hanex acrylic composite material is meticulously designed and engineered to withstand even the most rigorous treatment. Hanex is produced using a unique processing technology, the Double Belt Casting Unit. The application of pressure and temperature control by the upper and lower casting belts maximises composition uniformity, thickness control, workability of the material, resulting in a premium quality product.
Kerrock is a composite material composed of 40% natural minerals and 60% acrylic polymer. It is produced by Kolpa, in Slovenia.
Acrylic composite sheet dimensions
Below are the standard sizes in which acrylic composite sheets can be found. These are set to suit the requirements in different interior applications, with the note that some manufacturers can also make custom sizes.
6mm thickness
6 x 760 x 2490mm
12mm thickness
12 x 760 x 3680mm
Tools required for processing acrylic solid surfaces
Although almost as hard as stone, acrylic composite is processed in a similar way to wood products: circular cut with the same chipboard cloth, straightened with a vertical milling machine, sanded with an eccentric sander, drilled with a wood drill, engraved with a router.
Below is a list of all the equipment, tools, consumables and materials needed to process acrylic composite:
circular with rail (mobile)
milling machine (Ober)
pendulum saw
edge milling machine (small milling machine)
large and small sander
aspirator
finger cutter, radius cutter, top bearing, bottom bearing, angle cutter rounded corners
cleats
abrasives: 60, 80, 120, 180, 280, 500, 800, 1200, 1500, 3000
polish: 5000, 9000
adhesive
isopropyl alcohol
white tissues
*for thermoforming operations: oven (160-180 degrees), vacuum membrane press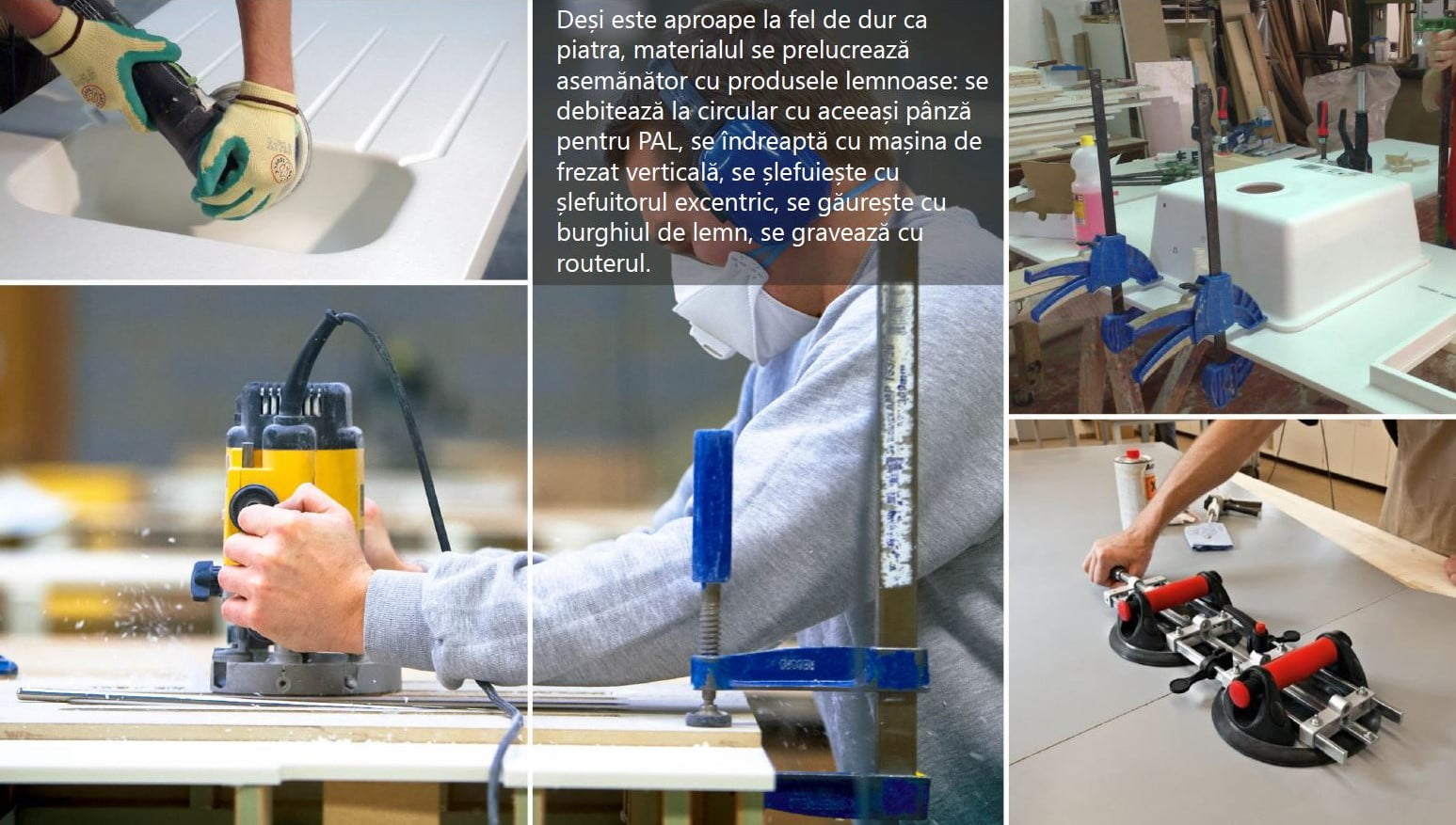 Acrylic solid surfaces are robust, highly advantageous materials available at the best prices and, thanks to the many design options, can be used virtually anywhere, adding elegance and refinement. Consumer demand for these surfaces is also growing in the residential area, which means that more and more furniture manufacturers are offering customers the choice of acrylic composite, especially as the processing equipment required is the same as that usually found in a furniture factory.